The Jesse "The Law" Torres Boxing Club, with support from the Fox Valley Park District, offers free fitness training to the youth and residents of Aurora, IL. and surrounding areas. We provide a variety of fitness equipment designed to improve your cardio and physical conditioning, as well as your boxing skills.
What's available to you:
Heavy Bags

Speed Bags

Stationary Bikes

Free Weights

Weight Room

Jump Rope Area
(ropes provided)

Boxing Ring

Battle Ropes

Treadmill

Double end Bags
TYPICAL CIRCUIT
TRAINING ROUTINE
10-15 minute stationary bike

10-15 minutes of jumping rope

3-4 rounds of speed bags

3-4 rounds on a heavy bag

Ending with a personal, 1-on-1 training session with Coach Jesse, Coach Octavio or Coach Terrell on the boxing pads.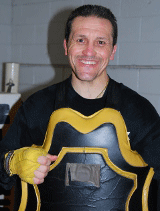 ​
Here's an opportunity to work with Coach Jesse in a one-on-one training. A chance to get a personal session and a customized program just for YOU!
​
Boxing with a Shield meets: Monday, Tuesday and Thursday
8 AM-10:30 AM
​
Cost: $25.00 monthly